MORE HEAT.
LESS FUEL.
MORE SAVINGS.
For rooms that are hard to heat, Rinnai Vent-Free Fan Convectors are the perfect solution. They incorporate a convection fan that evenly distributes warm air throughout the space, providing comfort even in faraway corners. Temperature output control maintains efficiency when heat isn't needed. By eliminating vents or ducts, places where heat typically gets lost, virtually all the warm air gets delivered to the room—making for a solution that's 99.9% efficient. In fact, the Rinnai Vent-Free Fan Convector is one of the most fuel-efficient heating products on the market today. Utilizing either natural gas or liquid propane fuel, it can significantly reduce energy bills.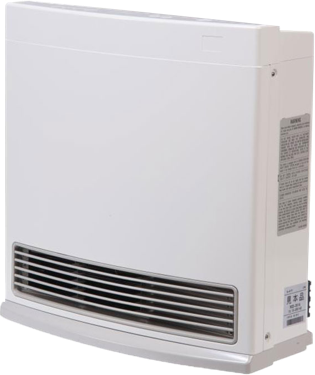 ---
Flexible, easy
installation
With no vents or ducts, installation can be
easily done in a variety of locations.

On-board
diagnostics
Quickly trouble-shoot and repair each
system with on-board diagnostics.

Whole-room comfort
Designed to evenly distribute warm
Cool-touch cabinet
While comfortably heating the space, the
exterior remains cool to the touch.
Tilt switch
The gas supply will automatically be
disabled in the event the heater is knocked
over. At the same time, the fan will continue
to run to cool internal parts.
Flame failure protection
If the burner flame goes out, the heater will
automatically shut itself off and
discontinue all operations.
Power failure protection
The gas supply will be shut off
automatically in the event of a power loss.
Oxygen Depletion Sensor (ODS)
The model automatically shuts off if
inadequate oxygen levels are detected.
Control panel lock
A control panel locking feature allows you
to lock controls to prevent unintended
operation—especially by children.
Overheat switch
A safeguard that monitors operating
temperatures and automatically shuts the
system down if temperatures exceed
predetermined levels, preventing damage
to system components.
Fuse protection
Protect your model's electrical system with
a 5-amp fuse.
Model
FC510 (RCE-391A-H)
FC824 (RCE-691TA-H)
Color
OFF-WHITE
OFF-WHITE
Gas Type
NG
LP
NG
LP
Input Range (Btu) (Low/High)
5,500 / 10,000
5,600/10,000
8,400/24,000
8,000/22,000
AFUE Rating
99.9%
99.9%
Fan cfm Output (Low/High)
67.8 / 97.8
109.5 / 215.4
Dimensions (w,h,d) (mm)
19.2 x 19.4 x 9.6 (487.7 x 492.76 x 243.84)
24 x 19 x 9.4 (609.6 x 486.20 x 238.70)
Shipping Weight (lbs/kg)
22.1 lbs / 10 kg
26.5 lbs / 12 kg
Power Consumption (Electronic Ignition)
19 Watts
29 Watts
Standby Power Consumption
N/A
N/A
Noise Level db(a)
28 – 38
30-44
Total Extended Vent (ft/m)
N/A
N/A
Total Vertical Vent (ft/m)
N/A
N/A
Certifications
CSA for U.S. only
CSA for U.S. only
Warranty*
3 Years on Parts
Altitude Approved (ft)
5,200
5,200


There's a reason we are recognized as a leader in our industry – we do our best on every job – no matter the size or the product in question. It's this sensibility and determination that continues to see clients return to us year after year. We aim to provide you with the same dedication that gives you every reason to do the same!
If you have any questions or would like more information, please contact us at 604.473.7777.