This is AIR INTELLIGENCE
We are devoted to overcoming the ever-evolving challenges of the air around us. Leveraging cutting-edge technologies, with a focus on performance, reliability, design, air environment, ease of use and efficiency, we create outstanding products and system solutions to realize a comfortable and sustainable living environment for everyone.
Your space, brought to LIFE
Traditional central heating and cooling systems have very few options. The entire home is served via large ducted systems that do not allow for precise control over each zone. Some challenges often resulting from those systems are hot and cold spots throughout the home, and the inability to turn off or set back the temperature of rooms that are not being used, sometimes for extended periods of time like a guest bedroom, media room, or a home office.
Ideal for whole home, addition or conversion
VRV LIFE systems are a complete heating and cooling hybrid solution that can replace your existing system, while adding zones for additional comfort or expansion (up to 9 zones). This is also true for homes that do not have central air systems where a fully ductless system can be configured.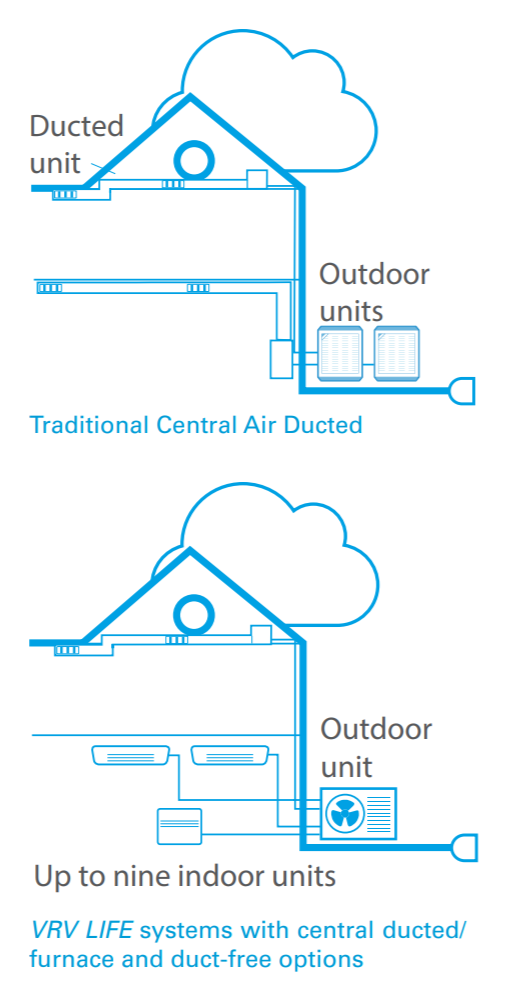 CONCEALED
DUCTED UNIT
Keep things clean and uncluttered with a concealed ceiling unit.
COMFORT WALL
MOUNTED UNIT
Its advanced, discrete design makes it an ideal solution to adding or re-configuring ductwork.
CONCEALED FLOOR
STANDING UNIT
Our floor-standing units can easily be installed along a perimeter wall — or concealed.
VISTA
CASSETTE UNIT
VISTA is stylish,
low profile,
and compact.
Reinventing central air conditioning
Zoning is an important factor that contributes to energy savings and comfort – standard central ducted systems do not have the ability to precisely adapt to your lifestyle and how you use your home. In most cases, larger homes can be separated in 2 zones, each zone being served by a separate system. VRV LIFE allows for one outdoor unit, to control up to 9 zones.




Thermostat wars, one temperature doesn't fit all in all rooms.
Energy wasted in areas not in use or through large duct systems.
Hot and cold rooms due to poor air distribution.
Personalized comfort, no moreargument over the temperature.
Energy savings: turn off zones not in use.
Solve hot and cold spots by adding more indoor units.
---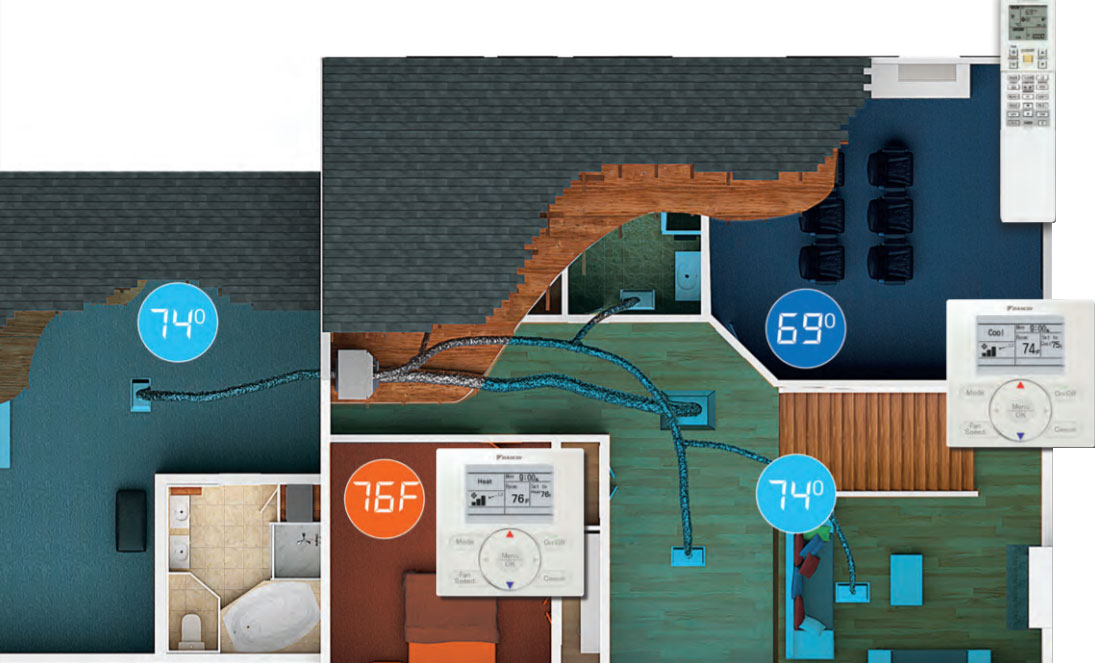 Hand-Held Controller (Wireless)
Hand-held controllers, included with some indoor units, provide flexible control of Daikin units: temperature control, operating modes, weekly programming, and more.
Navigation Controller (Wired)
Daikin's VRV LIFE systems wired controllers provide ultimate control of your indoor units to suit your lifestyle needs. Featuring intuitive interfaces for easy operation and a clean minimalistic design that is able to blend seamlessly into your home's decor.
The menu displays are availablein English, French, or Spanish languages.



There's a reason we are recognized as a leader in our industry – we do our best on every job – no matter the size or the product in question. It's this sensibility and determination that continues to see clients return to us year after year. We aim to provide you with the same dedication that gives you every reason to do the same!
If you have any questions or would like more information, please contact us at 604.473.7777.