Year-Round Home or Business Heating & Cooling
What is a mini-split?
Halcyon systems eliminate the need for a basement or atticlocated evaporator unit and bulky ductwork by using thin copper tubing that pumps refrigerant directly to discreet wall mounted or concealed units inside. Even more remarkable, this same unit works in reverse in winter, absorbing heat from the outside air and moving it indoors to heat your home. Available in numerous mix-and-match capacities and configurations, there's a Halcyon mini-split system for even the most difficult to heat and cool areas.
How does a mini-split work?
Like your refrigerator, heat pumps use electricity to pump refrigerant and transfer heat from one space to another. When we transfer heat from within our home to the outdoors, we call it "air conditioning". Conversely, when we transfer heat from the outdoors to within the home, we call it a "heat-pump".
Halcyon HFI Systems are some of today's most advanced forms of heating and air conditioning. One outdoor unit can operate up to 8 indoor units simultaneously.
Each indoor unit can be operated independently via remote control
Choose from a variety of indoor unit styles
Provide both heating and cooling (not simultaneously)
High energy efficiencies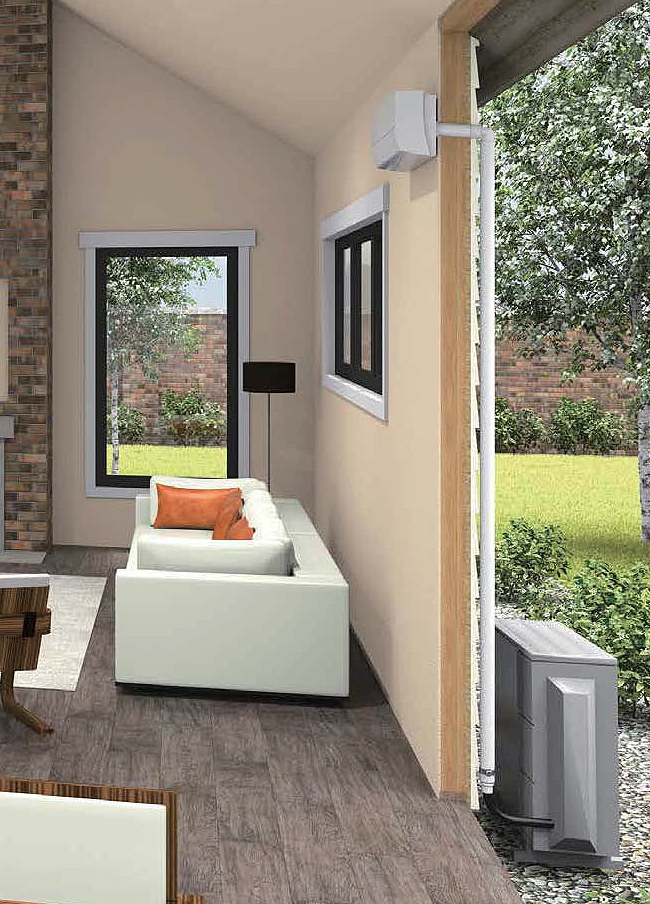 DUCTLESS
TECHNOLOGY
Don't waste money cooling and heating the ducts in your walls and attic. Fujitsu systems are ductless, meaning they
install easily and won't take up valuable closet space.
WHOLE HOME
OR BUSINESS COMFORT
Indoor units vary by size and style and each creates its own "zone" of comfort, allowing you to heat or cool individual rooms, hallways and open spaces at the push of a button.
A YEAR ROUND
SOLUTION
Halcyon heat pumps provide heating and cooling for year round comfort. A simple push of a button allows you to switch from heating to cooling automatically.
OTHER
APPLICATIONS
The 30RLXEH is specially engineered for spaces such as server rooms which require constant cool temperatures year round, and rooms that hold a large number of people.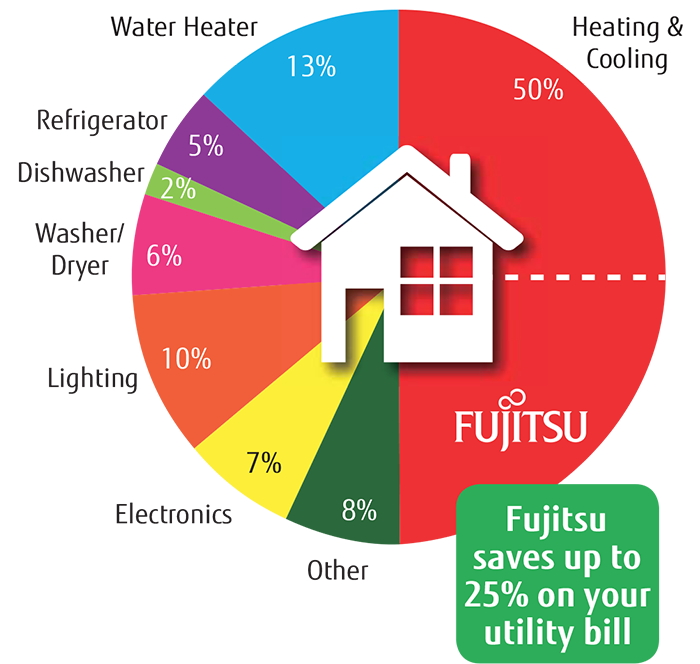 ENERGY EFFICIENT:
THE SMART CHOICE IN COMFORT
As much as half of the energy used in your home goes to heating and cooling. So, making smart decisions about your home's heating and air conditioning system can have a big effect on your utility bills – and your comfort.
WHERE DOES MY MONEY GO?
The high energy efficiencies of Halcyon systems slash utility bills by up to 25%. If your average annual utilities are $4,200, Fujitsu can save you up to $1,050 annually or $10,500 in 10 yrs! *Example given based on 33-SEER system versus 14-SEER system.
REBATES
Energy efficiency rebates may be available depending on your model and location. Click here to apply now or contact us for more information.
---
Control Your Home's Climate Anytime, From Anywhere!
Main Functions:
ON / OFF
Operation mode
Fan speed
Louver position
Set temperature control
Weekly timer
Minimum heat
ESP function
Error display
Email notification
The FGLair© mobile pp allows you to access control functions remotely from any smartphone or tablet. Control up to 24 systems using a single free account!
There's a reason we are recognized as a leader in our industry – we do our best on every job – no matter the size or the product in question. It's this sensibility and determination that continues to see clients return to us year after year. We aim to provide you with the same dedication that gives you every reason to do the same!
If you have any questions or would like more information, please contact us at 778.866.9677.