People spend approximately 90% of their time indoors. The quality of indoor space is not only affected by ambient or external pollution, but also from indoor sources and inadequate ventilation.
As a result, indoor environments can be in the order of 2-5 times more polluted than the exterior, according to the World Health Organisation (WHO).
IAQ (Indoor Air Quality) problems are preventable and solvable either at the design stage, when planning refurbishment, or on-site. Quick Cool offers a comprehensive service in the main areas influencing indoor environment including health and safety, thermal comfort and system performance on site.
More and more studies are beginning to report the increase in employees' productivity and the reduction in sick leave when wellbeing is taken into account, and the subsequent economic benefits this brings.
Ultra Violet Air Purification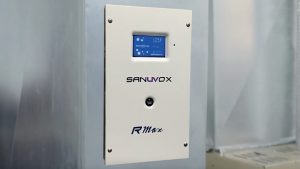 Sanuvox corporation, a North American leader in UV disinfection of air and surfaces, would like to warn people tempted to purchase air purifiers or other devices against potential claims that would find themselves misleading.
UV air purifiers installed in the HVAC system, with an adequate germicidal dosage sized for the air flow, will destroy airborne viruses, including the Coronavirus, but cannot guarantee anyone from becoming infected by the virus.
Air purifiers inside HVAC cannot disinfect frequently touched surfaces such as door handles and light switches, which are common disease transmission path. Given that the Coronavirus can survive up to nine days on a surface, good hygiene practice and frequent wash of hands continue to be the safest way to protect ourselves against any airborne or surface contaminants that can be introduced by other occupants and dispersed by the HVAC system in the house.
In other words, a powerful UVC air purifier can reduce the possibility of spreading the contaminants through the HVAC system, but it does not eliminate the necessity of safe hygiene practices. Although UV is effective in killing the virus indoors, UV lamps should not be used to sterilize hands or other areas of skin, as the radiation can cause skin irritation.
RMax-brochure-EN $1340*
SRMax-brochure-EN $1073*
P900 Brochure $890*
* – installed, plus GST
If you have any questions, please contact us at 778.866.9677.